This is autogen301 - a collection of 15 self generating custom units using 100% internal units and no samples.
I made these to understand the patching system on the er301 through programming self generating patches and also to share how i patch with my hardware modular systems. I am very much influenced by Serge, Buchla and Ciat Lonbarde
There is deliberately minimal control - usually 2 sliders for cv control and occasionally none. You steer the ship to move in a particular direction - a little bit like a benjolin or blippoo box. Some of these are throwaway sketches others are not. These are building blocks so please dig in and mess about with the patch settings.
You must have Joes Bespoke Units (4th Aug) installed for it to play - Some new Units to share
One unit (The Ikeda) i used Kels Burst Generator which also must be installed
Heres videos of the patches
Pop
The Ikeda
Gang of Four
The Barbieri
Tippy Tap
Chuckle Brothers
Mongolian Winter
Sine Saw Sign
Corporate Trash
The Barton
Noodles
Alien Radio
Flam Drum (updated)
3 Clicks (updated)
Loading Instructions :
I'm using firmware v0.3.25 - so please upgrade if you don't have.
Unzip Joes Bespoke Units to ER-301/libs
Unzip Kels burst generator and my custom units lua to ER-301/v0.3/presets/units/custom-unit
Insert "Custom Unit" → Click on the custom unit self generated name (left side - not where it says "open")
Load Preset → goto ER-301/v0.3/presets/units/custom-unit/xxxx
They are all mono units - so just connect audio out - and tweak the sliders.
autogen301.zip (88.4 KB)
---
LATEST VERSION
This is autogen301 for v0.6.15 firmware
40 self generating custom units using 100% internal units.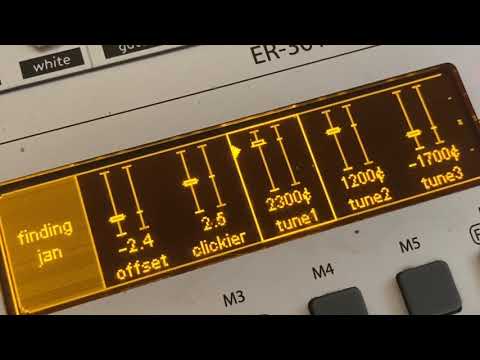 There is deliberately minimal control on the majority of units - usually a handful sliders for cv control. You steer the ship to move in a particular direction.
---
autogen301 packages for v0.6.15+ er301 sound computer firmware
NB - The following packages need to be installed first before autogen301 :
Minimum ER301 firmware required is v0.6.15 (v0.6.15 has the sample loading fix. v0.6.14 will not load packages containing samples): Releases · odevices/er-301 · GitHub
Additional packages required from https://er301-hub.netlify.app
Accents v0.6.14
Band Limited Oscillators v0.0.2
Filter Delays v0.6.05
Lojik v1.2.0
Sloop v1.0.2
Strike v2.0.0
Erosive Erosive 0.1: Add Grunge, Grit and Distortion to your sound!
the package can be found here:
Please note that the package release contains 90mb of samples and takes about 5 minutes to install.
Installation:
Download the autogen301.pkg file
Copy to ER301/packages folder on SD card.
Flick the left switch to Admin.
Select Package Manager.
You should see autogen301.pkg as an available choice along with the core and teletype mods, which will most likely already be installed
Highlight autogen301.pkg in the top screen.
Install.